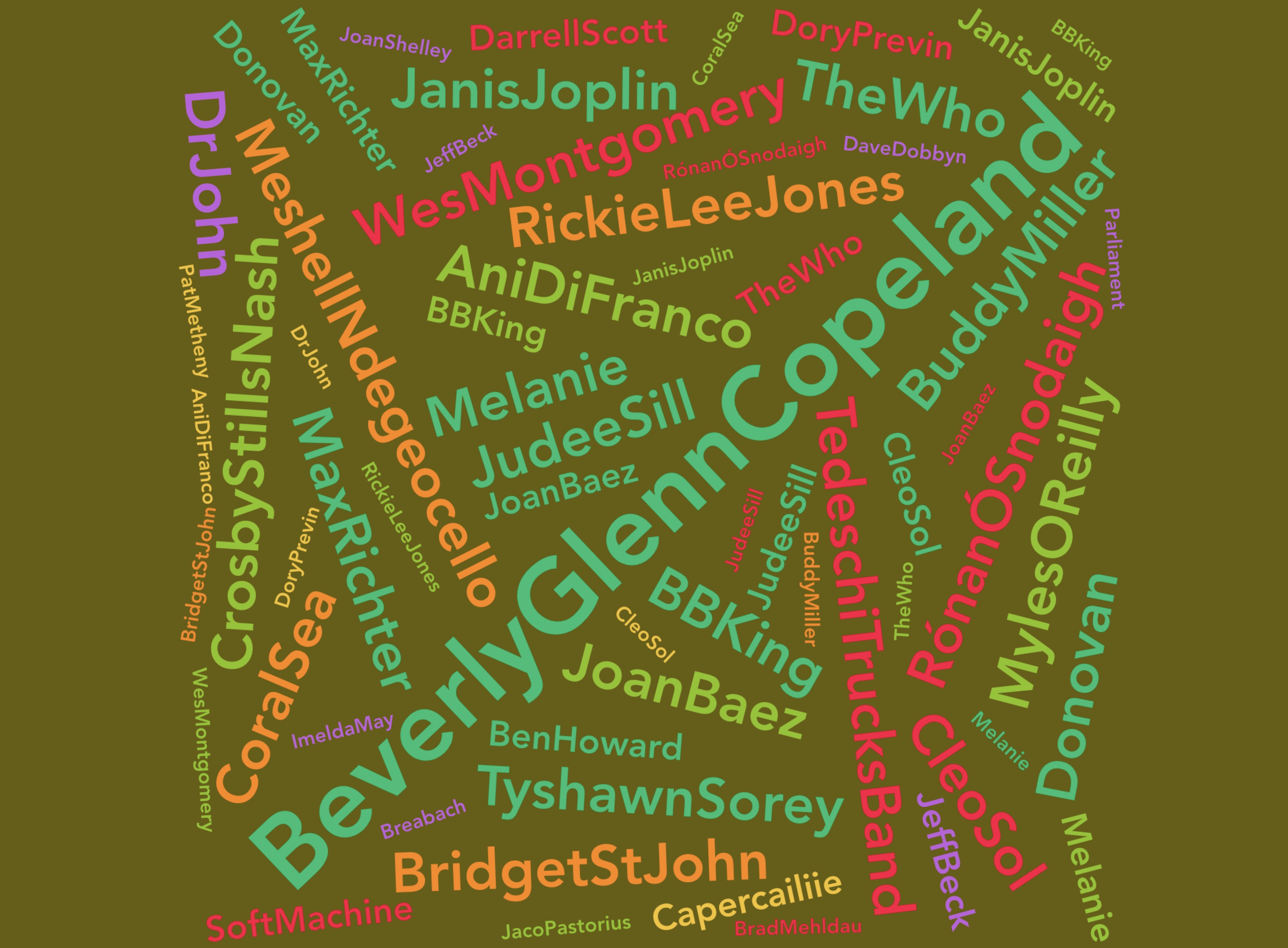 Don't you just love it when you come across an unexpected delight? Something that takes you away from your norms, but which somehow is rooted in your past, the gold standard for what you love? 
The Ones Ahead by Beverly Glenn-Copeland falls full square into this category for me. It's as if it has been in my consciousness forever, without me knowing. This beautiful, modest person's organic-based music seems to come from nowhere and everywhere. I watched a film (unfortunately it's behind a paywall) about her/him and was amazed at the aura and the journey for one to another… to other. This is one of my finds of the year.
Elsewhere August was a mix of catching up on albums I had rejected or ignored many years ago, and newer albums that I loved hearing.
In the first category, I had always assumed Joan Baez, Roxy Music, Janis Joplin and Leonard Cohen were creations, artists whose place in popular culture was earned through image and stories, not for their music. Of these Joan Baez particularly caught my feet up from under me, and taught me a sharp lesson about assumptions and prejudices. Shame on me!
It's also lovely to find albums you've never heard by people you are already into. I've always dug Dr John's vibe in his shamanic voodoo kinda way. Against that is his thoughtful solo piano album Dr John Plays Mac Rabennack, which has been one of my favourite albums for decades. Such wonderful playing – funky, clever, sensitive, affectionate. This time I listened to his album of Duke Ellington pieces, and it's so worth a listen for that crossover between latter day New Orleans swamp and great early jazz.
Dr John doing his solo thing
Another of my very fave artists of all time is Rickie Lee Jones, especially her first two albums with their Steely Dan-like sound, great session playing and witty, idiosyncratic songs. How I missed out on the album Flying Cowboys I'll never know! Glad to have caught up!  Here's a video of her singing her most famous song live, solo. To me the spare treatment is an object lesson in funky economy, and has been the model for some of my own song-writing. I wish! This woman is a genius: does what she wants, how she wants, and has the confidence to go with daring space. I love this video 
Rickie Lee Jones - Chuck E's In Love
But really I have three albums of the month…. First, young drummer Tyshawn Sorey with his trio playing collective jazz - respectful of roots but moving effortlessly forward. Seeing the trio next week at the London Jazz Festival! Similarly collaborative, but more expansive sonically, is Meshell Ndegeocello's new album. I adored this mixture of groovy thoughtfulness, melodic turns and communal music making. A truly wonderful album. If you don't like this video, we can't be friends. Simples!
Meshell Ndegocello from her fabulous album The Omnichord Real Book
And away from jazz and folk – almost in classical territory, I'd never paid attention to Max Richter before. This is perfect mindfulness music, alongside my recent new favourites of Olafur Arnalds and Nils Frahm. The Blue Notebooks is a slowly unfurling album that I will come back to again and again.
August
Tedeschi Trucks Band - Let Me Get By

Joan Baez - Joan Baez

Wes Montgomery - The Incredible Jazz Guitar of Wes Montgomery

Bridget St John - Songs For The Gentle Man

Rónan Ó Snodaigh, Myles O'Reilly - The Beautiful Road

Peatbog Faeries - I See a World

Crosby Stills & Nash - CSN

Cleo Sol - Rose in the Dark

Janis Joplin - Pearl

Simon & Garfunkel - Parsley, Sage, Rosemary and Thyme

Imelda May - Life Love Flesh Blood

The Who - Who's Next

Capercailiie - Crosswinds

Jeff Beck - Emotion & Commotion

Ben Howard - I Forget Where We Were

Jaco Pastorius - Jaco

Soft Machine - Fourth

Darrell Scott - Old Cane Back Rocket

Buddy Miller - Your Love And Other Lies

Damir Imamovic - The World And All It Holds

The Nonidentical - Material Tropes

Coral Sea - If Memory Serves Me

Beverly Glenn-Copeland - The Ones Ahead

Judee Sill - Heart Food

Tyshawn Sorey - Continuing 

Donovan - Beat Cafe

Bill Withers - Still Bill

Nat King Cole - After Midnight 

Crowded House - Woodface

The Guess Who - Share The Land

Dory Previn - Mythical Kings And Iguanas

Django Reinhardt, Stephane Grappelli - Minor Swing

Georgie Fame and the Blue Flames - Fame At Last

Max Richter - The Blue Notebooks

Michael Nyman / Camilli String Quartet - String Quartet No.4; Three Quartets

Ben Chasny - The Intimate Landscape

Ani DiFranco - Revolutionary Love

Rickie Lee Jones - Flying Cowboys

Brad Mehldau, Pat Metheny - Quartet

Joan Shelley - Over and Even

Breabach - Astar 

B.B. King - One Kind Favor

Dr. John - Duke Elegant

Anna Tivel - Outsiders (Live in a Living Room)

Jim Mullen - Somewhere In The Hills

Melanie - Candles In The Rain

Dave Dobbyn - Twist

Meshell Ndegeocello - The Omnichord Real Book

Parliament - Mothership Connection

Eric Dolphy - Out To Lunch

Leonard Cohen - I'm Your Man

Roxy Music - For Your Pleasure

George Benson - Give Me The Night
To date: 337