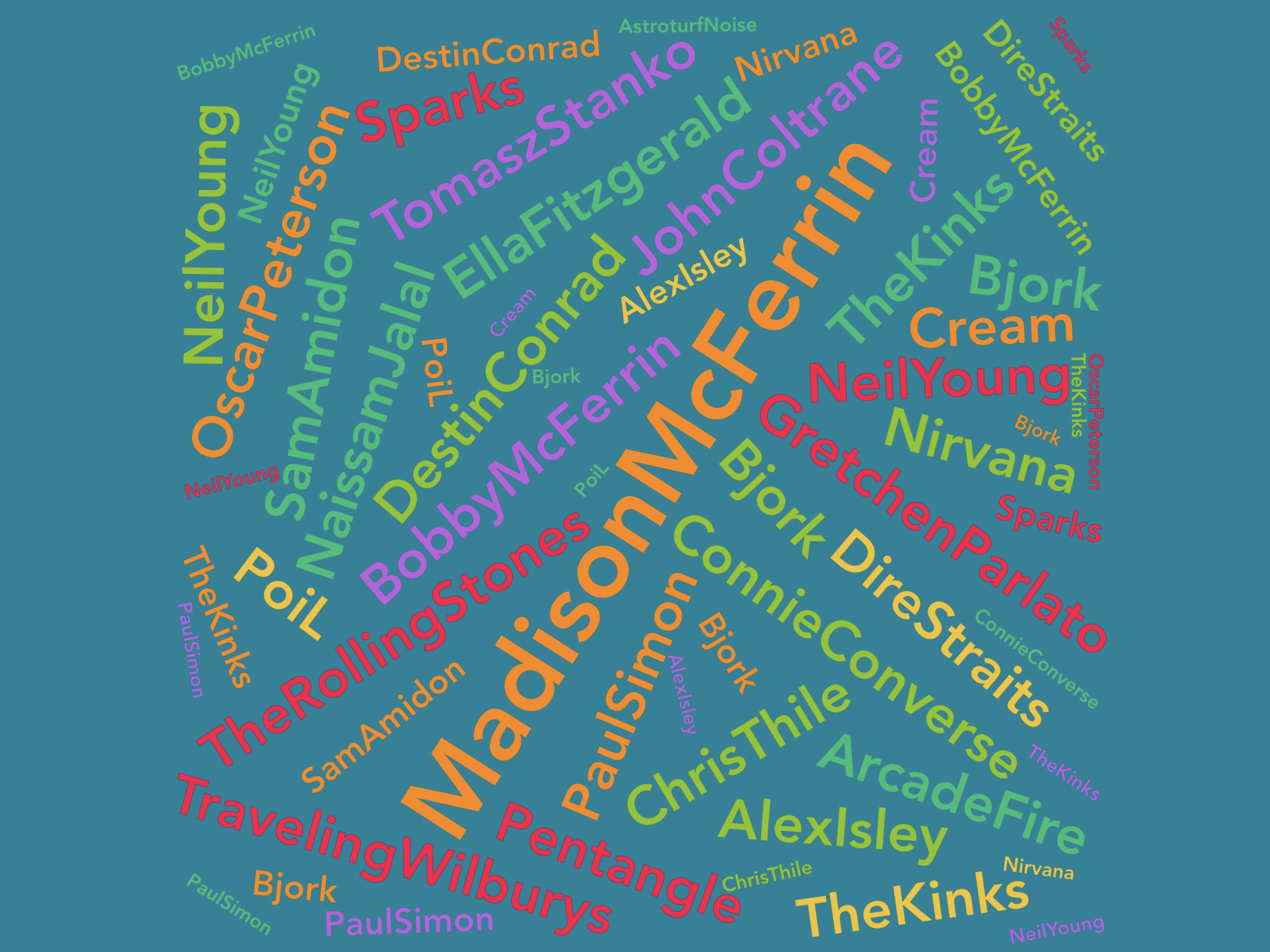 May was a stupendous listening month, thanks mostly to wonderful albums by women. I hope you'll find something to follow up on here!
Just like the search for a new swinging Sinatra album a few months back, I went looking for – and found – an unfamiliar Ella album. Swinging 'brightly' with Nelson Riddle? Nah, not just that! Swinging crazily, musically, joyously! Sometimes, for some, Ella's studio albums feel like she's not living in the moment - it's all too rehearsed, too perfect. I'm not in that camp, but I get it. Not here though – no way! She really goes for it. What an album!
I love Scottish folk singer Karen Matheson's voice, which features mostly in the band Capercaillie, but here solo she gives herself more space, and I think it's better for it (as in my favourite album of hers, Dream River). I had never listened to Bjork (yup, it's true!) so I went easy with myself with the vaguely gentle Verspertine, which I lost myself in. 
One of my favourite discoveries of the year is the album Flor by Gretchen Parlato – a cello and voice both of honey, playing Brazilian inflected chamber jazz. And a sung Bach cello suite. I adored this album. It's deep and light, serious and joyous at the same time. It's truly the only album all year I've broken my rules for – and gone back to listen again. Now, in September, my 'Indispensable' albums run up to 26… this is one, for sure.
A go-to source for interesting new albums is The Wire magazine. I liked the review of the short debut album by Madison McFerrin, and I loved its jazzy, other worldly, endlessly creative but rooted soundscape. What a great confident new voice! So I went researching her, and found she's the daughter of one of my all-time vocal heroes, Bobby McFerrin. 
He's famous for 'Don't Worry Be Happy', used on some fizzy drink commercial, a vaguely annoying bit of pap and pop. But behind that, he's a polymath of vocal music – firstly with his solo improvisation concerts. I have duetted with him – yes, just us two – in a London concert, possibly at the Palladium, when he asked for a volunteer. I sang a melody, and he wove lines around and between, changing the harmonies and the pace with an effortless flicker of his voice. It was one of the best musical moments of my life. I felt honoured. He also is the innovator of Circlesongs - music made in the moment by any group from 2 to 2,000 voices. I have followed this through, singing and performing in a Circle Singing improvisational choir. Not for the faint-hearted!
Bobby McFerrin doing his thing in Vienna - without me on this occasion! 
Another real surprise for me was the music of Connie Converse, a forgotten American who wrote unusual and idiosyncratic songs, yet (or maybe, 'so') never got anything like the audience she deserved. I was bowled over by the sheer difference and innovation in her songwriting. How Sad, How Lovely was mostly recorded at a friend's kitchen table in the 50s I think. Her music is playful and silly, and serious and profound too – and when those all clash it really gets ya!
There are two further albums that I fell in love with in May.
Of course I have a deep love of the Hebrides, those lonely windswept unforgiving bleak beautiful islands, with their wide skies, their wildlife and their calling of the solitary and the spiritual. Mainly Islay for sure. My heart stopped, listening to the young Scottish piper from Skye, Brighde Chaimbeul, and her album Carry Them With Us. This is simple, beautiful, honest and deeply moving. It is music for my life.
The remarkable Brighde Chaimbeul
Also, for where I am right now healthwise, I was taken and nurtured by French Syrian flautist Naissam Jalal, and her album Healing Rituals. I don't usually like the flute as an instrument – the tone and timbre often grate. This music is so deep and considered, and the musicians so together, that I was in heaven listening.
Elsewhere, I was not really interested in old albums by The Rolling Stones, Neil Young, Van Morrison, John Martyn, The Kinks. Even the new Seven Psalms by Paul Simon felt a little too mannered compared to these other earthier works. Sorry old chaps.
Finally – honourable mentions! The American folk musician Sam Amidon finds new ways to tell old stories, makes great albums and I loved seeing him in concert a few years ago. Chris Thile is one of my favourite musicians of the current age – a virtuoso on, yup, mandolin, with his mix of classical, Americana, bluegrass and experimental music. And a goodbye to Pete Brown, who wrote the lyrics for Cream's greatest hits (like Sunshine of Your Love). He was expelled from my strait-laced religious school in the early 60 for mixing with the Beat Generation who were famously 'tuning in, turning on and dropping out'. His notoriety lingered. I've sometimes wondered if it was because of his reputation or influence that I went down to those Soho clubs in my teens - if maybe I started writing because of him. Thanking you or maybe blaming you – so long, Pete! I've been waitin' so long to be where I'm goin'….
May
Rolling Stones - Beggars Banquet 

Neil Young - Homegrown

Ella Fitzgerald- Ella Swings Brightly With Nelson

Karen Matheson - Still Time

Oscar Peterson Trio - Night Train 

Traveling Wilburys  - The Traveling Wilburys Vol 1 

Bjork - Vespertine 

Gretchen Parlato - Flor 

Veronica Swift - This Bitter Earth

Kinks - Something Else 

Sachal Vasandani, Romain Collin - Midnight Shelter

John Martyn - On The Cobbles

Tomasz Stanko Quintet - Dark Eyes

Rhiannon Giddens - They're Calling Me Home

Arcade Fire - Funeral

Madison McFerrin - I Hope You Can Forgive Me 

Bobby McFerrin- spirityouall 

Connie Converse - How Sad, How Lovely 

Pentangle - The Pentangle 

Alex Isley - Luxury

Dire Straits - Brothers in Arms 

Nirvana - Nevermind 

Minnie Ripperton - Perfect Angel 

Destin Conrad - SATIN 

Paul Simon - Seven Psalms 

The Magic Lantern - To The Islands

Jon Wilks - Before I Knew What Had Begun I Had Already Lost

Cream - Disraeli Gears 

John Coltrane and Johnny Hartman - John Coltrane and Johnny Hartman

Naissam Jalal - Healing Rituals

Sam Amidon - I See The Sign 

Eliza Gilkyson - 2020

Van Morrison - Inarticulate Speech of the Heart 

Brighde Chaimbeul - Carry Them With Us

Astroturf Noise - Blazing / Freezing 

PoiL, Junko Ueda - PoiL / Ueda

Annalies Monsere -Happiness is Within

Sparks - The Girl is Crying In Her Latte

Chris Thile - Thanks For Listening
To date: 181