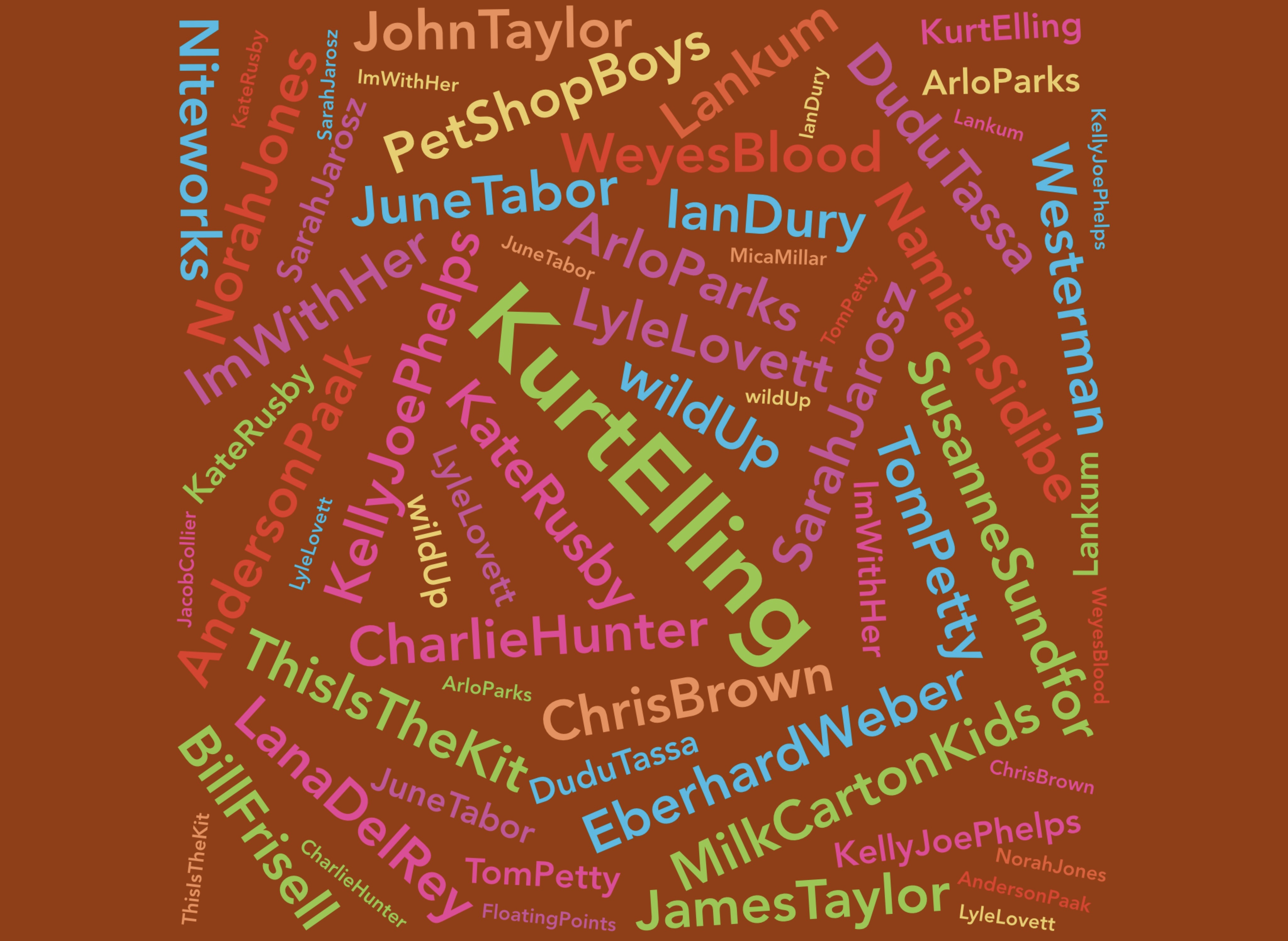 Here's my June list. Catching up slowly!
I'm writing in October which is proving to be a difficult time for me again. So I'll keep it short and sweet…
I have always loved Kate Rusby. The flag carrier for beautifully sung traditional English folk song, with wonderful instrumental arrangements. Her Yorkshire voice comes shining through, but this is no homage or chocolate box performance. It feels timeless and eternal. And this recent album is as good as any. One of my favourite voices ever.
In a totally different genre, another of my go-to modern voices is that of jazz singer Kurt Elling. I think he studied divinity (and maybe even was a minister), and maybe that's a clue to his deep respect for the tradition, and his rich baritone. But there it ends. I love his technical ability and creativity – this is no crooning, but an endless examination of form and melody, angular, testing, no prisoners. SuperBlue is his most funky album, and perhaps his most accessible. I adore it. I can't wait to see him in a couple of weeks' time again, at Union Chapel!
Lyle Lovett is an alt.country songwriter I really admire. His songs are wry, witty, totally idiosyncratic. His writing is cynical, affectionate, uncompromising, surreal. Great storyteller. Sometimes I wish I could be him. So many albums of his rank in my Top 50 especially the ones with his big band. Joshua Judges Ruth has always been rated one of his best, but for some reason was the one I'd never heard. So delighted to put that right! Sooo good!
I had never given Tom Petty much time. My bad. The simplicity of the songs masks a deep control of form, and an economy of language that is perfect at building connotations in the stories. As a songwriter, I'm always searching for the short phrase that evokes the picture or sense I want my listeners to pick up on. I had listened to Wallflowers last year (produced by Rick Rubin) so I went back further to listen to Full Moon Fever. I was bowled over by the economy, the precision, the mood.
On the acoustic end of my likes, Laura Marling always ranks really high. Semper Femina is up there with the best of her work. So admire the production and arrangements! I also was gobsmacked by the supreme acoustic musicianship of The Milk Carton Kids. And at the nu soul end of my listening spectrum, Anderson .Paak is recommended, as is Weyes Blood.
One person I'd like to call out is Kelly Joe Phelps, an acoustic guitarist who died recently. Like a cross between John Martyn and a gospel singer. He really influenced me when I started writing again around 2000, and though his work is not consistent, his guitar playing is mesmerising. If you are interested I'd recommend Sky Like a Broken Clock or the Beggars Oil EP. So many gigs of his in London, I just sat agape, astonished at his playing. A tragic tale, much loved.
But I think my one album of the month is something everyone already knows – except me. I had always dismissed Norah Jones as being probably being too middle of the road for my taste, but oh her voice, and in particular the arrangements on her blockbuster album, Come Away With Me. Acoustic chamber jazz - just how I love it! I know you know this!
June
Namian Sidibe - Namian Sidibe

 

Arlo Parks - Collapsed in Sunbeams
Chris Brown - OCCHIO
I'm With Her - See You Around
wild Up - Julius Eastman, Vol. 1: Femenine
Bruce Springsteen - Letter To You
Ian Dury - Laughter
Eberhard Weber - Stages of a Long Journey
Kelly Joe Phelps - Brother Sinner and The Whale
Susanne Sundfor - blomi
Brendan Eder Ensemble - Therapy
Westerman - An Inbuilt Fault
Pet Shop Boys - Behaviour
Lankum - False Lankum
Dudu Tassa, Johnny Greenwood- Jarak Qaribak
Kate Rusby - Philosophers, Poets and Kings
Sarah Jarosz - World On The Ground
Lyle Lovett - Joshua Judges Ruth
Kurt Elling, Charlie Hunter - SuperBlue
Lana Del Rey - Did you know that there's a tunnel under Ocean Boulevard?
Dave Rawlings Machine - Nashville Obsolete
Tom Petty - Full Moon Fever
Niteworks - A'Ghrian
James Taylor - October Road
Angelique Kidjo - Mother Nature
John Taylor - Angel Of The Presence
Newton Faulkner - Rebuilt By Humans
Laura Marling - Semper Femina

 

Bob Dylan - Love and Theft
The Commodores - Nightshift
The Crusaders - Free As The Wind
Laura Cantrell - Just Like a Rose: The Anniversary Sessions
Floating Points, Pharoah Sanders - Promises
Mica Millar - Heaven Knows

 

Weather Report - Heavy Weather

 

The Milk Carton Kids - All The Things That I Did And All The Things That I Didn't Do
Jon Thorne, Danny Thompson - Watching The Well
This Is The Kit - Careful Of Your Keepers
June Tabor, Iain Ballamy, Huw Warren - Quercus
Weyes Blood - And In The Darkness, Hearts Aglow
Jacob Collier - Djesse Vol. 1
Bill Frisell - Ghost Town
Keef Hartley Band - The Battle Of North West Six
Norah Jones - Come Away With Me
Vieux Farka Toure - Mon Pays
Anderson .Paak - Ventura
Ry Cooder - The Prodigal Son
Bonnie Raitt - Just Like That…
PJ Harvey - White Chalk

To date: 230