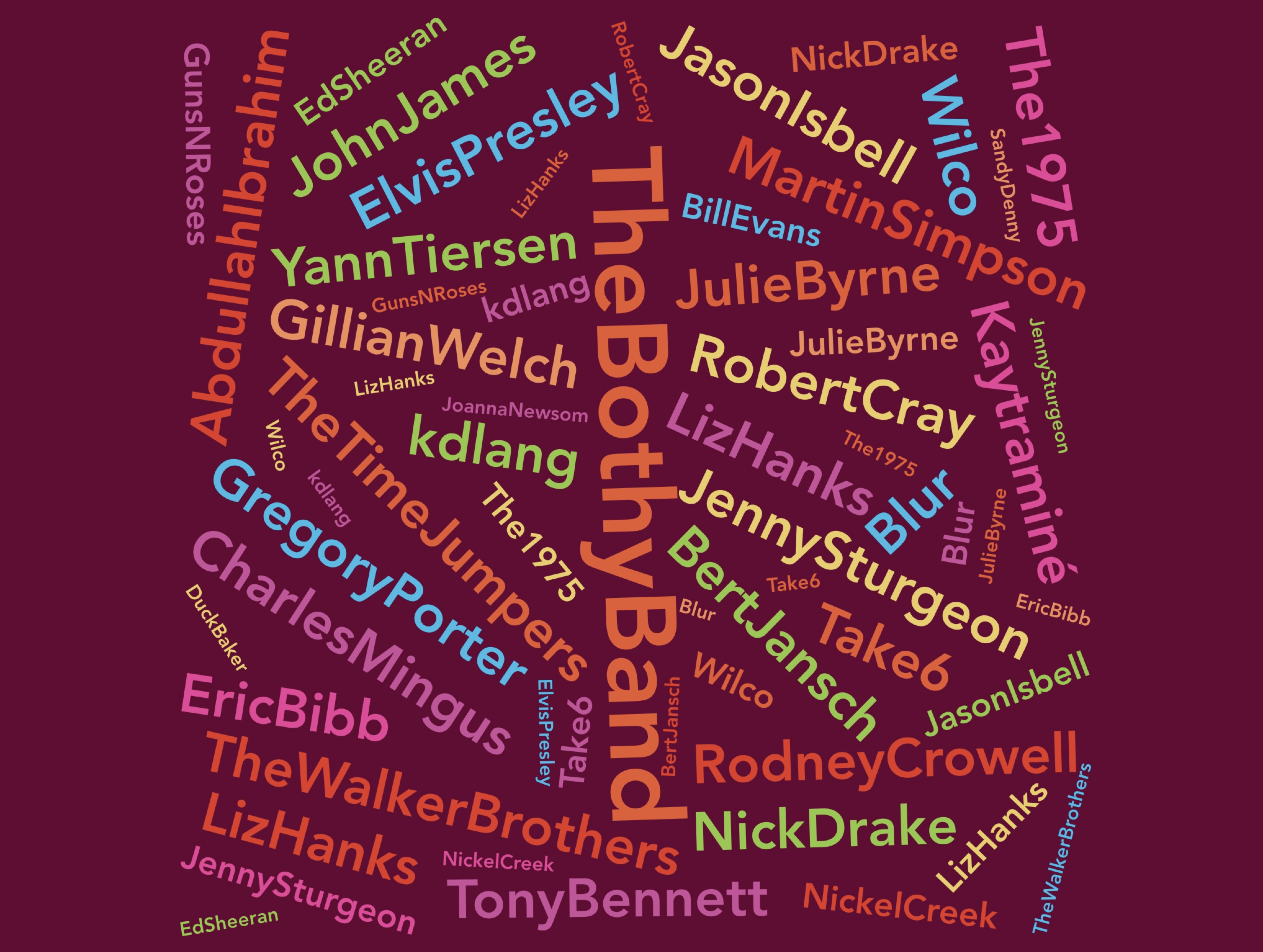 Some glorious albums this month. Can't do them all justice!
Early in July I got chatting to a lecturer at the University of Manchester. We soon realised our musical taste and history was intertwined – specifically that we both love jazz and British folk. We played a game of one-upmanship in which we recommended unknown guitar pickers to one another. Fun!
I am delighted to introduce you to a couple of old folkies from him. The first is John James, a Welsh player who includes ragtime in his repertoire, and Duck Baker – an American who came to Europe in the 60s, and stayed a good while. I'm pretty sure I saw him at a folk club somewhere, probably The Jolly Sailor outside Portsmouth, and I'm equally sure I had no idea what I was hearing. His album the Art of Fingerstyle Jazz Guitar makes you want to give up playing really, and just listen instead.
A modest little video of Duck Baker from I dunno, 30 years ago?
While we're on American guitar players who live in Europe, I'd always recommend a listen to acoustic bluesman, Eric Bibb. We have history. 
In 2003 I was starting to write songs again and for my 50th birthday I decided to buy myself a present – a new guitar. Being left-handed, good ones are tough to find. I took the train to Cumbria, to the workshop of luthier Roger Bucknall, who had started Fylde Guitars 30 years previously. His guitars were played by the real folk cognoscenti – all the classic finger-picking guitarists of the 70s and 80s - and were instantly distinctive because of their unique 'zero fret' near the headstock. He builds guitars, mandolins, mandolas, citterns. I believe Roger fell on hard times, and gave up guitar making in favour of billiard cues, in which he became a master craftsman. 
Soon before I went to Penrith he had re-established his guitar business. One lukewarm Autumn day, I found his small workshop on the edge of town.
Roger was charming and stand-offish in equal measure: maybe shy? He sheepishly brought out a prototype that would be his 30th Anniversary series – limited to an edition of just 6 guitars. Just to see what I thought of course. Being left-handed I couldn't play it, but I could tell it was exactly what I wanted, what I had needed all my life! The wood combination, the feel in the hand, the sound, the inlaid purfling. Could I? Should I? Would I always regret not doing it? Of course I did. That's the way it crumbles, folks! And it's not just a question of saying 'I'll have one please'. There are things about my preferences, for example 'the action', meaning how high above the fretboard the strings lie. Guitarists have different tastes. Likewise, the contour of the neck that rests in your hand. The very process…
I was led in to the dimly lit humidified storeroom at the back. The smell was pungent and sweet. Rack upon rack of woods, floor to ceiling, from around the world… spruce, rosewood, ebony, mahogany, red cedar, sapele, ash…. From India to the Americas. Some definitely no longer traded. He showed me the rosewood he built the prototype 30th from, and we discussed the grains on different pieces of wood – some with grain more dense, others more open. We discussed how they would age, how the sound would change over time of each. If I remember it rightly, dense grains would produce a tighter sound that would be fairly stable for say 20 years. Wider grains would produce a warmer sound, but it might end up over decades becoming a little muddy. It was a risk in part, but maybe more a choice. I selected a pair of woods for the back that mirrored one another with a beautiful open grain. I waited three months for my left handed Fylde 30th Anniversary guitar – the only one ever made.
I love this guitar more than any I've ever had (alongside my Lowden made for me in Ireland), and it's written many a song for me. It plays more like a piano… it has amazing definition between the strings, yet strums equally beautifully. Over twenty years so far it has become more luscious, warm and inclusive. I own a treasure.
And here – finally! - is the connection to Eric Bibb: he bought two of the other five, and gigs with them. Roger has since reissued this design as the Eric Bibb Signature Series. A friend tried to broker a conversation between Eric and me at a folk festival – both of us were embarrassed and couldn't wait not to have the conversation! I don't know why, maybe I had impostor syndrome… maybe Eric was just about to go on stage. Anyway, we both did a runner…
Eric Bibb playing his 30th Anniversary Fylde Guitar
Albums I loved this month were the usual mix of acoustic music built on old traditions, and modern stuff. In particular I recommend…
Liz Hanks is a cellist much in demand for sessions, especially in Yorkshire. Her album Land is a complete knockout… mostly solo cello, sometimes multitracked, with a series of pieces involving landscape in and around her home town, Sheffield. It's fabulous. Environmental music, but not in the slightest meditation music. I loved a similar ethos in Scot Jenny Sturgeon's album, The Living Mountain. They are two of my albums of the year.
A track from Liz Hanks' beautiful album, Land
Other albums too surprised and wowed me this month. The Bothy Band, with their collective and glorious folk music on an unfortunately titled album; Abdullah Ibrahim (formerly known as Dollar Brand) with his organic lyricism and supreme deft touch to his piano; Joanna Newsom, endlessly inventive harpist who doesn't really fit in any category, but hey, let's call it folk; the beautiful Sandy Denny with an album I surely have listened to before  (but oh, her version of The Quiet Joys of Brotherhood!); Sufjan Stevens and his creative reinvention of folk Americana calling to mind Fleet Foxes, Wilco, Prince Billy, Father John Misty etc; Erykah Badu and her laidback vibe for Sunday morning, late night driving, chilling out and all things in between; and the glorious Take 6 – the a capella Gospel based group I have loved since their first amazing album. Live, they are a-maz-ing!
Take 6 recreating one of their most loved tracks, in lockdown, 30 years on
All these filled my heart with joy and wonder in July. 
Love to all, in these troubled times…
July
k.d. lang - Absolute Torch and Twang

The Time Jumpers - The Time Jumpers

Robert Cray, Hi Rhythm - Robert Cray & Hi Rhythm

Gillian Welch, David Rawlings - All The Good Times

Gregory Porter - Take Me To The Alley

Bert Jansch - Moonshine

The Walker Brothers - Take It Easy With The Walker Brothers

Kaytraminé (Aminé, Kaytranada) - Kaytraminé

Larry Coryell, Badi Assad, John Abercrombie - Three Guitars

Abdullah Ibrahim - Cape Town Flowers

Charles Mingus - The Black Saint And The Sinner Lady

Martin Simpson - Vagrant Stanzas

Rodney Crowell - The Chicago Sessions 

Yann Tiersen - Dust Lane

Dave Van Ronk - Folksinger

Guns N' Roses - G N' R Lies

Elvis Presley - From Elvis in Memphis

Watkins Family Hour - Watkins Family Hour

John James - Descriptive Guitar Instrumentals

Duck Baker - The Art of Fingerstyle Jazz Guitar

Durand Bernarr - Wanderlust

Svitlana Nianio, Tom James Scott - Eye of the Sea

Julie Byrne - The Greater Wings

The Bothy Band - Old Hag You Have Killed Me

The 1975 - The 1975

Jordan Rakei - Wallflower

Nick Drake - Pink Moon

Joanna Newsom - Divers

Nickel Creek - Celebrants

Battlefield Band - Rain, Hail or Shine

Wilco - Yankee Hotel Foxtrot

Dave Brubeck Quartet - Take Five

Ed Sheeran - x

Sandy Denny - Sandy

Sufjan Stevens - Illinois

Charlie Parker, Dizzy Gillespie - Bird And Diz (1956)

Tony Bennett, Bill Evans - The Tony Bennett / Bill Evans Album

Blur - The Ballad of Darren

Liz Hanks - Land

Jenny Sturgeon - The Living Mountain

McCoy Tyner - The Real McCoy

Jason Isbell and the 400 Unit - Weathervanes

The Mavericks - Mono

Roy Orbison - Oh! Pretty Woman

Erykah Badu - New Amerykah Part Two: Return Of The Ankh

Sinead O'Connor - I Do Not Want What I Haven't Got

John Renbourn - Faro Annie

Elton John - Don't Shoot Me I'm Only The Piano Player

Take 6 - Beautiful World

Thelonius Monk - Criss-Cross

Jackson Browne - Late For The Sky

Johnny Cash - Hello, I'm Johnny Cash (1969)

Kenny Wheeler - Angel Song

Eric Bibb - Dear America
To date: 284