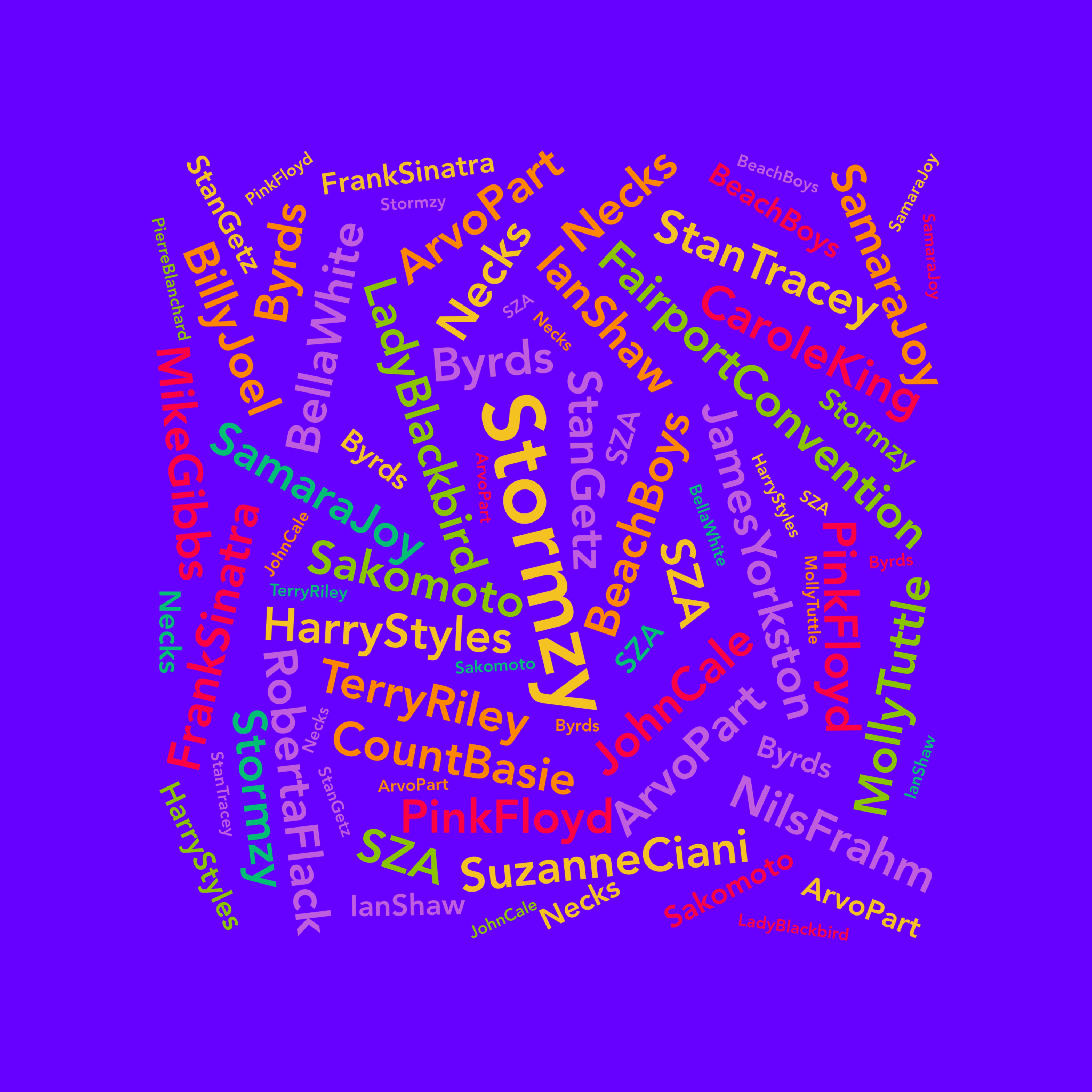 After the war, UK companies still routinely offered apprenticeships and tenure: skilled, knowledgeable workers would be happy, loyal ones. It was a longstanding obligation to society too. His Master's Voice (HMV) was a British institution – the shop in Oxford Street sold their radios and radiograms and later, new-fangled things called 'television sets'.  It was also a well-known record label, with Nipper the Dog as the mascot. In the shop, they sold records and sheet music too.  My mother worked at HMV, and part of her employment was to get after-hours tuition in music history – classes on the classics. But what she loved most was the stars of the day dropping in, on tour, or promoting their latest record. The romantic jazz violinist Stephane Grappelli gave her two lace butterflies. Others gave her palpitations.
From the day I was born she sang to me, played 50's LPs by Ella Fitzgerald and Frank Sinatra, and 78s she'd got from HMV. That was my musical education – never formal, always the joy and wonder of singing, of listening. In some ways this project is thanks to her - music constantly on in the house. It was never analytical - it was open, receptive, non-judgmental. I'm trying to mirror that feeling in my listening now, in what is becoming a 'project'. I'll leave the musicology for others… I mean, if you really want Phrygian half cadences, Mixolydian mode and non-Diatonic harmony, maybe I could go there… just about! But nah, not here! I am not trying to play Reviewer, Journalist or - heaven forfend - Critic. I'm just a Listener.
Shirley loved telling a mischievous story of a great sax player she saw at the Albert Hall. (I think it was Charlie Parker, but there's nothing online about him in London.) She was sitting ten rows back. As these weird modern sounds came out, all angular and frenetic, she felt the spirit move her – and she collapsed in a heap of uncontrollable laughter, rollicking from side to side, tears running down her face. She ran out, a handkerchief between her teeth, tripping up the stairs as she fled. Openness, it seems, has its limits!
I don't have the same taste as her, but the records do stay on. For a start, Sinatra in the Capitol years before he went middle-of-the-road-nightclub on the Reprise label. It was a bit difficult to find anything unfamiliar to me from around that era - but I did! Sinatra-Basie is simply fantastic: brilliant band, great arrangements, fabulous production - every note of the brass ringing out. And Frankie relaxed, free n' easy and loving every moment, swinging like crazy with the big band. Amazing. Recommended!
Karl Marx said that history repeats itself, first as Tragedy. Was he predicting the Bee Gees? In summer 1975 I worked in a record shop myself… a trendy little place in Carnaby Street, where the owners loved Little Feat, the Doobie Brothers and for some reason The Bee Gees. It was the summer of Dark Side of the Moon by Pink Floyd. We sold more copies of that to Czech students than probably everything else put together. We had a special part of the stockroom devoted to it. People bought twenty copies at a time to take home, where it was contraband. We played it over and over on the store's speakers. I came to loathe it, to fear it, like Chinese water torture. So, in February, with an open heart I gave it a spin. I wish I hadn't. Everything came flooding back. In drips!
Maybe that's where I get my intense dislike of prog rock of the 1970s. It will be a measure of true World-Love, and Karmic Acceptance if during this project I can bear 40 minutes of Yes, Led Zeppelin, Deep Purple, and Caravan. Probably, I was simply jealous of the hair.  
In February I was still finding my way with the project. I played unfamiliar albums by people I love: Fairport Convention, The Byrds, Arvo Part, Stevie Wonder. They were all rather uninspiring – 'lesser' works – or maybe it's just that the others are deep in me already. I gave Billy Joel another try, but he's just not for me - lovely tunes, but I'm left cold somehow. It must be me. Carole King's Tapestry got a spin, despite the listening rules – such a brilliant album, such amazing songwriting - so much from the heart. Maybe it was just right on the day.
I went back to Stan Tracey's jazz suite of Under Milk Wood, and found I remembered every note from my student days. I could hum the solos, I could recall the mellow production, pheromone by pheromone. How does that happen? How do these things lodge so firmly, when I can't remember what I did yesterday? How does this stuff stick and stay with us?
The albums I loved this month were otherwise mostly modern. Stormzy's This Is What I Mean is inclusive, witty and fresh. Young jazz vocalists Samara Joy and Lady Blackbird have beautiful technique and soul, and their albums are fabulous. There was modern RnB from SZA, and a mesmeric album from avantgarde minimalists The Necks. I really enjoyed a gentle album by Nils Frahm, who alongside Olafur Arnalds (coming soon) provided the inspiration for the piano parts on my own recent record.
Alongside Sinatra-Basie, my album of the month was a quietly modest one. Welsh-born, London-based jazz vocalist and pianist Ian Shaw and I are one step removed. I know a few people who know him, so illogically I feel connected. A few weeks ago I popped into the local studio where I recorded Still, and heard a snatch from a new album he's recorded there. Greek Street Friday, released imminently, sounds fabulous – 'organic' and engaging. 
His older album The Abbey Road Sessions has turned me into a fan. The double bassist is the late great Peter Ind, who taught a couple of friends of mine too. These are quiet covers, lushly arranged, and no trees were pulled up. Just lovely straight-forward music-making. I found it expansive, sometimes surprising, life-affirming, honest. My mother would have loved it.
The Long Player Listening Project – February 
The Beach Boys - Pet Sounds 

Stormzy - This is What I Mean 

Ryuichi Sakamoto - 12 

James Yorkston / Second Hand Orchestra - The Wide Wide River 

Lady Blackbird - Black Acid Soul

Tegh, Poursamadi - Ima

Harry Styles - Harry's House

Stan Getz - Sweet Rain

Samara Joy - Linger Awhile 

Fairport Convention - Unhalfbricking

John Cale, Terry Riley - Church of Anthrax 

Pink Floyd - The Dark Side of the Moon

Lisa O'Neill - All of This is Chance

Frank Sinatra, Count Basie - Sinatra-Basie

Bella White - Just Like Leaving

The Byrds - Mr Tambourine Man

SZA - SOS 

Roberta Flack - Roberta Flack Featuring Donny Hathaway

Molly Tuttle, Golden Highway - Crooked Tree

El Khat - Albat Alawi Op. 99

Sirom - The Liquefied Throne of Simplicity

Mike Gibbs - The Only Chrome-Waterfall Orchestra

Ian Shaw - The Abbey Road Sessions 

Pierre Blanchard - Music For String Quartet, Jazz Trio and Lee Konitz

Arvo Part, Paul Hillier, Theatre of Voices - De Profundis

Carole King - Tapestry

Suzanne Ciani - A Sonic Womb

The Necks - Open

Stan Tracey - Under Milk Wood: Jazz Suite

Stevie Wonder - Where I'm Coming From

Nils Frahm - All Melody

Billy Joel - The Stranger
To date: 76