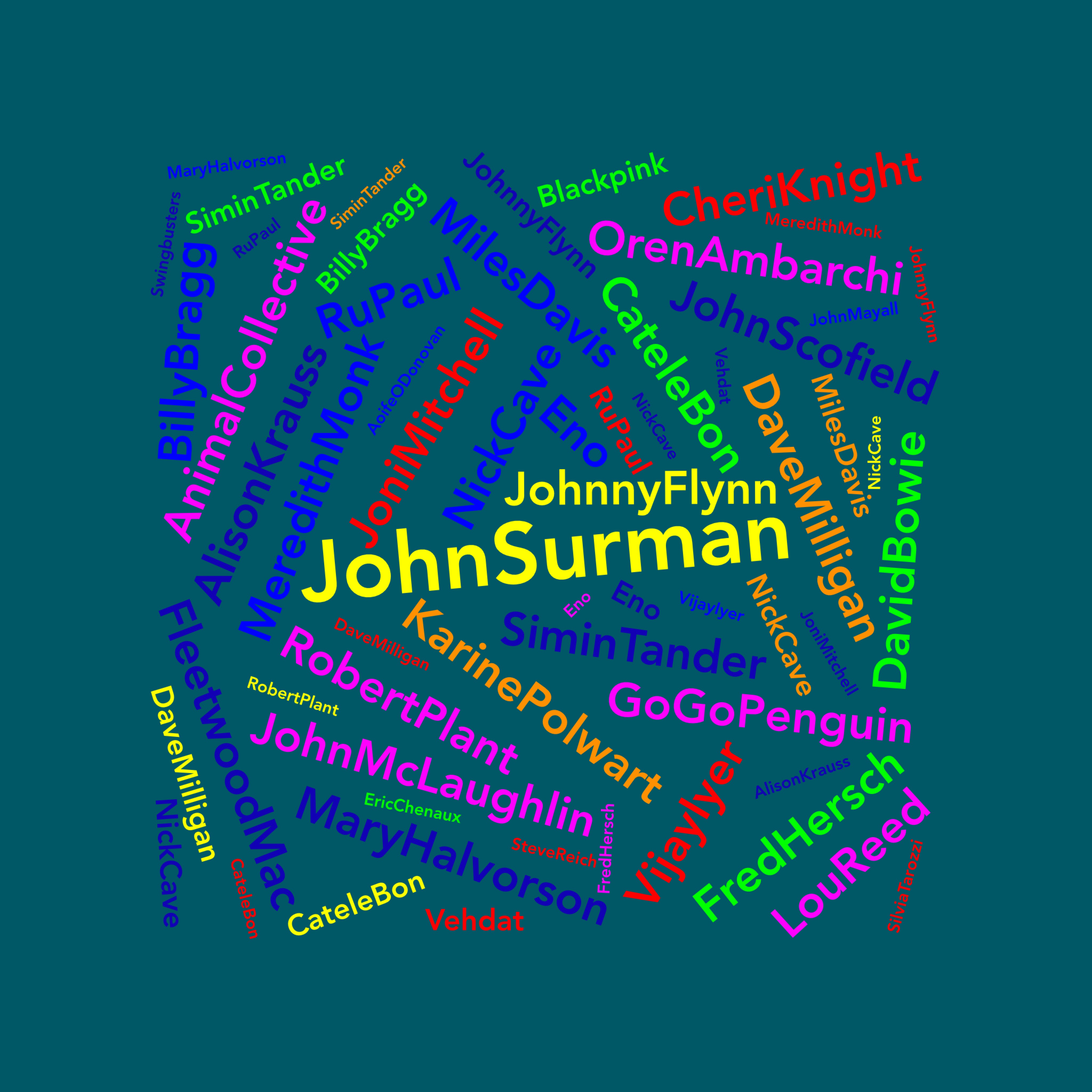 Let's talk about the music!!!
My Long Player Listening Project didn't come into the world fully formed. In December and January I was finding my way with it - it wasn't even a 'project' to start with, just something to do while my life is limited. My listening had become quite closed and repetitive. I didn't quite know what I was doing or why. But I love music, and I wanted to love it again actively… to regain that sense of wonder. 
I kicked off at Christmas 2022 with an unfamiliar record by my favourite UK sax player, John Surman. A collaboration with Romanian pianist, Lucian Ban - Transylvanian Folk Songs. Surman has been part of my listening and gig going since the 1970s. Classical jazz at Leeds Poly on Sunday nights, freer jazz in his bands SOS and The Trio, brass bands (in the UK Northern colliery tradition) on the South Bank, collaborations, brooding dark soundscapes. His eclecticism seems rooted in a constant spiritual search, with the dark low notes of his saxophone reverberating and skimming at the same time. The ECM label is a natural home for him, with its beautiful, chamber acoustic recording style. Shadow and light, ancient and modern. Perfect for my mood!
I had liked videos of Nick Cave's solo piano performances at The Roundhouse and Alexandra Palace but I'd never listened to him properly – and I always felt guilty about that. I'm glad I put it right with Push The Sky Away. 
One of my favourite albums of recent years is Still As Your Sleeping, a duet between two lyrical Scottish musicians. Dave Milligan is a pianist I've seen many times at the Islay Jazz Festival. I love his gentle folk-inflected playing, his mellifluous lines. And Karine Polwart is one of my favourite songwriters and singers. She tells stories about place, often in nature. I have followed her since her debut album, Faultlines, in 2003 through her solo work, band work and collaborations (notably the female collective 'Songs of Separation'). I find her voice haunting and beautiful.
I quickly realised this was to be a voyage of discovery, not one of nostalgia. As I listened to Blue by Joni Mitchell I knew I didn't want my Long Player Listening Project to be a festival of the familiar.
The listening rules started to form in my mind, and by the end of January I had settled on them…
Only ever one album by an artist 
Only albums I don't know, or haven't heard for at least 30 years
Listen end to end – no breaks
No multitasking – no screens or media, no conversations or diversions
No live albums, 'special editions', compilations or best ofs
No thematic listening - stay varied in my genre choices
Choose in the moment, on the day - no planning.
As well as simply enjoying music, I wanted to learn more about it – and about me. My Long Covid gives me pause for thought.  Oh yes - that is perhaps the biggest understatement of all time! I constantly ask myself questions about identity, meaning, values, assumptions. How I live, and what I want from now on. Questions – but of course unreliable answers! But hold on! That's enough of Hamlet brooding. I have a longhand Long Covid journal for all that kinda stuff which - thankfully - no-one will ever see! What's relevant for this project is that it's not about me being clever, showing off or filling time. It has purpose for me: it's my project..
Listening to learn – January was a case in point. I took a subscription to The Wire, a monthly magazine about experimental music – small scale, non-commercial, progressive. Music that might include birdsong, industrial metal or simply be based on rhythms of the heart. From conventional forms to pure soundscapes.  Here I found records with new musical meaning for me. (The Wire is not to be confused with the magazine Wired, which is a blokeish style and techno magazine).
At the turn of the year The Wire published their Best of 2022 – 50 albums, none of which I'd heard of, mostly on tiny labels. I've always respected outsider music, for which the audience is invariably small. I've often preferred intimate venues where you can actually hear the musicians - sometimes unamplified -  perhaps talk to them, feel a connection and majesty that's not based on scale. I'm not generally a 'blockbuster' type fan – though yes, I love some stadium fodder too. There is always a place for that!
In January and February I listened to many of those albums. A particular highlight was Canti di Guerra, di Lavoro et d'Amore by Silvia Tarozzi and Deborah Walker. These Italian songs were originally sung by women working in the ricefields of Emilia-Romagna (think 'risotto'), heavily political, rooted in anti-fascism. I found Tarozzi and Walker's work surprising and moving. Equally, the solo electric guitar of the Dalmatian, Branko Mataja, in his compilation album, Over Fields and Mountains. Eerie, other-worldly.
I also started another thread – albums I feel bad for never having listened to - perhaps out of prejudice or assumption. I really enjoyed Transformer by Lou Reed. I went back to Big Science, by his partner, Laurie Anderson that I loved in the 80s: so creative, different without being arch or too arthouse clever, and unconstrained by convention! I love David Bowie (especially the Thin White Duke era) but had snobbish assumptions about Ziggy Stardust – I'd never really listened, so I put that right. One of my heroes, David Crosby, died in January, and I listened to an unfamiliar album of his.
Another hero, this time of jazz, Keith Jarrett has been amazingly prolific. I have many of his albums – a 6 CD set at The Blue Note in New York, all the albums with his Standards trio, including my favourite track of all time: his version of God Bless The Child (on Standards Vol 1). This is my musical perfection, from first note to last. I saw him perform many times in London, both the trio and his astonishing solo concerts, where he'd take an idea, develop it, explore it, turn it inside out, up and down for 20 minutes, completely  improvised. Secular religious experience. I was devoted to his Bremen / Lausanne album, but now – for the first time, really, I paid attention to its supposed better - a classic jazz album of the last 40 years, The Koln Concert. My, it's special!
I also wanted to challenge myself with music I normally snub my nose at . So I started with K-Pop band Blackpink (The Album) and RuPaul (Black Butta). To my surprise, I got something from each. Mostly joy! Less fruitfully, Rumours by Fleetwood Mac, which I gave yet another chance. The songs are OK but I still don't get it, especially the mix, which I find weirdissimo - the bass just doesn't sit well, for me, against the vocals. Heresy. Shock, horror!
It's always lovely to hear an album by a friend. I know what goes into making one, and how you hang on everyone's reaction – be it positive, negative, or absent. I have a good friend who made one album, but was so traumatised by the feedback and how it made her feel about herself, that she has not recorded since. Another friend – more established as an artist – wrote to me the other day, in the midst of her latest project, that she's reflecting so much this time on what it all means... who she is as an artist, as a creative, and what we want from this baring of the soul. You have to be a certain sort of person to do this work, to put hundreds of hours into writing and producing, putting your music out - and not be super-sensitive to what others think.
So I was delighted when through the front door dropped The Swingbusters, a private CD by my friend Steve Benaim, with whom for many years I shared lead vocals in a covers band, The Hip Replacements. Steve's album is fun, and mostly aimed at getting gigs. He shares his swing band with Tony Engle, who amazingly – and quite incongruously – ran Topic Records in Finsbury Park for decades. Topic is the most significant in Britain in promoting traditional folk music - it is the gold standard. Many of the artists there will come to feature in my listening project.
But ultimately in these first few weeks, there's one album that stood out, resonating for me, completely unexpected. I've long listened to the Kronos Quartet, classical musicians who play a wide range of contemporary music, often in collaboration. The album Placeless spoke to both my head and my heart, perhaps for where I am now. Made with Iranian singers Marjan and Mahsa Vehdat, I found it transcendent and beguiling. I was pretty much in a trance state listening to it. Iranian women are not allowed to sing in public, certainly not if men are present. They find their audience with women, and abroad. It's all the more moving for that. Finding this album was a joy and a pure treasure: coming across it, listening to it as it shimmered and tugged - that hour will always stay with me.
The Long Player Listening Project – December and January 
Lucian Ban, John Surman - Transylvanian Folk Songs

Nick Cave and the Bad Seeds - Push the Sky Away

Karine Polwart, Dave Milligan - Still as Your Sleeping

Johnny Flynn, Robert Macfarlane - Lost in the Cedar Wood

Joni Mitchell - Blue

Simin Tander - Unfading

Meredith Monk - Impermanence

Robert Plant, Alison Krauss - Raise The Roof 

John McLaughlin - Extrapolation 

GoGo Penguin - GoGo Penguin 

Cate le Bon - Pompeii 

Animal Collective - Merriweather Post Pavilion

John Scofield - John Scofield 

Aoife O'Donovan - Age of Apathy

Miles Davis - Filles de Kilimanjaro

Fleetwood Mac - Rumours 

Vijay Iyer Trio - Break Stuff 

Fred Hersch & Esperanza Spalding - Alive at the Village Vanguard 

Brian Eno - Foreverandevernomore 

RuPaul - Black Butta

Billy Bragg - The Million Things That Never Happened 

John Mayall - Blues Breakers 

Silvia Tarozzi and Deborah Walker - Canti di guerra, di lavoro et d'amore 

Mary Halvorson - Belladonna 

Aldous Harding - Warm Chris 

Branko Mataja - Over Fields and Mountains

The Swingbusters - Swingbusters 

Oren Ambarchi / Johan Berthling / Andreas Werliin - Ghosted 

Eric Chenaux - Say Laura 

Lou Reed - Transformer 

Rashil, Abi Sampa - Orchestral Qawwali 

Tomas Niesner - Becvou 

Laura Cannell - Antiphony of the Trees 

David Crosby - Lighthouse

Laurie Anderson - Big Science

Black Ox Orkestar - Everything Returns

Blackpink - The Album

The Smile - A Light for Attracting Attention

Kronos Quartet, Marjan & Mahsa Vehdat - Placeless 

Cheri Knight - American Rituals 

David Bowie - The Rise and Fall of Ziggy Stardust and the Spiders From Mars 

Keith Jarrett - The Koln Concert

Steve Reich (/Kronos Quartet / Pat Metheny) - Different Trains / Electric Counterpoint 

Anna Thorvaldsdottir (/Various) - Aerial