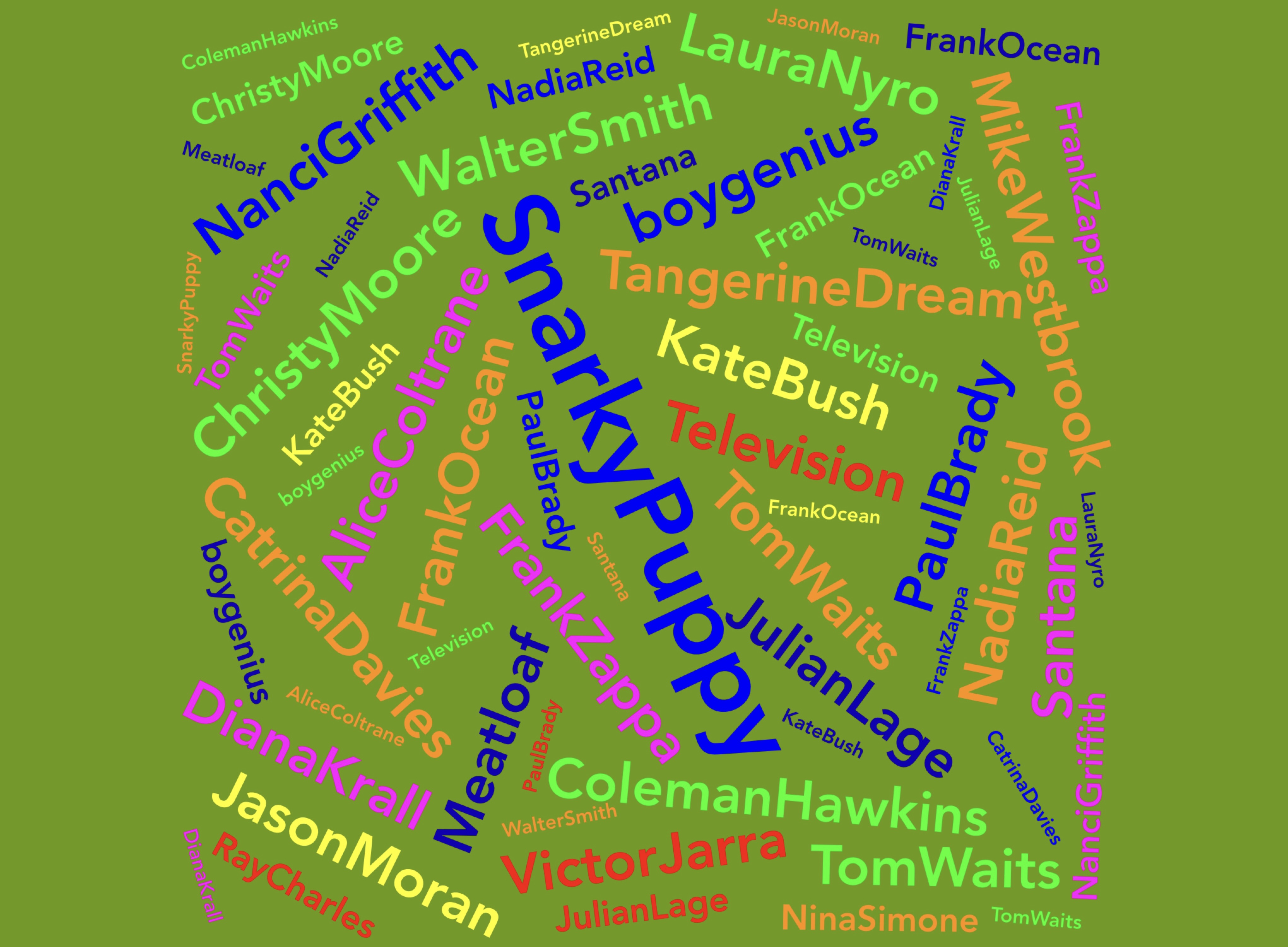 I already knew some of Snarky Puppy's music. Formed in Texas, it's a jazz collective that is deeply funky, great fun, and forever inventive. One of my fave videos of all time is Lalah Hathaway guest singing with them. This contains one unmistakable moment of musical joy and genius, the like of which – guaranteed! - you have never heard before. You'll just have to put your life on hold for 7 minutes and 44 seconds, or at least until you reach the hallelujah point. You will know it, honest - all you have to do is listen to her. Snarky Puppy's album Immigrance lifted my heart. It made me cry with the joy of life - I was that happy listening to it. 
There were several other albums, newer and older, that had this effect on me in April. Partly because it was my best health month for a year, partly it was Spring and I was also feeling the memory of energy course through me again. 
Television's Marquee Moon had always been an album I avoided, despite (or because of) its new wave credentials, but I loved it. The writing and production is incisive, the performance committed and energetic. This album is a friend I should have had for 30 years. Frank Zappa and Alice Coltrane were even older artists I'd ignored through some kind of suspicion, but I was gobsmacked by the inventiveness of Hot Rats (with a hero in the band I knew from jazz, the violinist Jean-Luc Ponty) and the latter's mesmeric Journey in Satchidanada, her piano and harp weaving patterns and taking me to a place of reflection and meditation.
And why had I always dismissed Kate Bush? Strange how these prejudices form – maybe the sheer theatricality of Wuthering Heights, coming as it did when the pop music of the time was glam and makeup. Even moi can get it wrong…. so wrong…! 
I've never been sure about Tom Waits – not certain which universe he's from. It might be a completely different one, with different logic. I find him kinda threatening, possibly because of his acting role in the movie Seven Psychopaths! But the other-worldly steampunk ethic of Rain Dogs got me in the guts – I loved it! 
I have a hidden vice - serial music. I can trace it back to one defining moment, listening to John Peel's late night radio show under the bedcovers. I should have been asleep for the school-day ahead. One night he played A Rainbow In Curved Air by Terry Riley. It went on forever - and I wanted it to last even longer, to never end. I was completely smitten by the mesmeric lines and turns of rhythm and phrasing. It's like the antithesis of my first love, acoustic music - real instruments you can pluck, blow and hit. So serial music is a really guilty pleasure. These days it's more likely to be Kraftwerk, but I am so glad I got round to listening to a Tangerine Dream album at least once!
Lots of albums too this month that unfortunately didn't do much for me. By every bit of logic, Paul Brady and Christy Moore should be acoustic heroes - but I just don't get it. Brady and I both play guitars made by George Lowden in Ireland, as does my actual guitar hero, Richard Thompson. You'd think this kinship would nail my fandom. Alas not. Must I justify?! Brady & Moore (that well known firm of undertakers) are both a bit declamatory for my taste. I dare say they're not fans of my music either…
Really though this month, it was about women's voices. Kate Bush yes, but also Nancy Griffith, Karen Carpenter (amazing!), Diana Krall, uber-trendy boygenius (I'm so achingly cool) and soul royal, Nina Simone. And writing this at the end of August, I realise I haven't yet listened to an album by Lalah Hathaway…. Shame on me!
The Long Player Listening Project - April
Catrina Davies - Ribbons
Christy Moore - Ride On
Paul Brady - The Vicar St Sessions Vol 1
Julian Lage - The Layers
boygenius - the record
Mike Westbrook - Citadel / Room 315
Nadia Reid - Out of My Province
Walter Smith III - return to casual
Meatloaf - Bat Out of Hell

 

Frank Zappa - Hot Rats

 

Nanci Griffith - The Loving Kind

 

Coleman Hawkins - The Hawk Flies High
The Carpenters - A Song For You
Television - Marquee Moon
Frank Ocean - Blonde
Diana Krall - From This Moment On
Alison Cotton - The Portrait You Painted of Me
Snarky Puppy - Immigrance

 

Ray Charles - Modern Sounds in Country And Western Music
Jason Moran - All Rise: A Joyful Elegy For Fats Waller
Kate Bush - Hounds of Love
Jethro Tull - Thick As A Brick
Tom Waits - Rain Dogs
Nina Simone - Wild Is The Wind

 

Alice Coltrane -Journey in Satchidanada
Joanna Brouk - The Space Between

 

Penelope Trappes - Heavenly Spheres
Xylouris White - The Forest in Me
Victor Jarra - Te Recuerdo Amanda
Santana - Caravanserai

 

Laura Nyro - Eli And The Thirteenth Confession
Tangerine Dream - Rubycon
To date: 142